In today's Gospel, the Pharisees ask Jesus another question. Their aim is to entrap him, so that they would have enough evidence to arrest him. This is the third question. We heard the first one in last week's Gospel. This is followed by another question from the Sadducees, when they ask Jesus about the resurrection. Then we have today's reading.
The Jews followed the Mosaic Law. They do not only obey the Ten Commandments, but also innumerable rules and regulations which we find in the books of Exodus, Leviticus, Numbers and Deuteronomy. The Jews used to discuss a lot about the priority of these laws and their ranking in importance. In his wisdom, Jesus gathers everything in two declarations: "love the Lord, your God, with all your heart, with all your soul, and with all your mind" and "love your neighbour as yourself."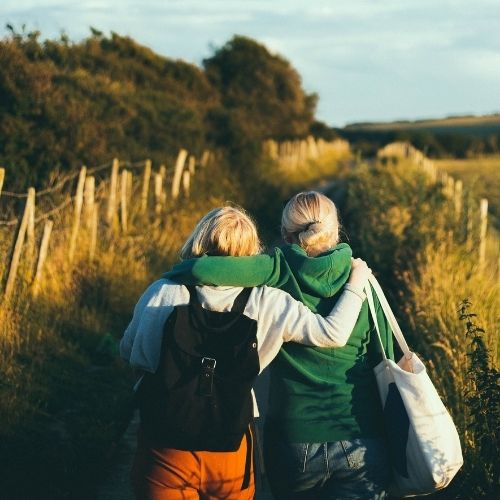 The word 'law' quickly suggests thoughts of restrictions. But the lynchpin in God's law is love. If we understand God's law – the Commandments, we recognise that through them we will remove all obstacles which hinder us from loving God and others. We can divide the Commandments into two: the first three focus on our relationship with God, the other seven refer to our relationship with others.
What does it mean, to love God, with all your heart, with all your soul, and with all your mind? Last week we referred to the temptation which we may have of excluding God from certain areas in our lives, for example from work related or leisure related decisions. Loving God with all our being, means that we love him through everything we do and say, all day long, wherever we are. God does not want half-hearted Christians.
Loving others is not always easy. The first step towards loving someone is to get to know him and start a relationship with him. Love does not depend on our moods. Perfect love is the love God has for each one of us. He continues to love us despite our shortcomings, his love for us does not change. God does not love us because we deserve it, he loves us because we belong to him, and we continue to belong to him, whatever choices we make. This is what Jesus is inviting us to do today. He wants us to draw closer to this way of loving others. The more we get to know God, the more we can love him.
Jesus also asks us to love others as we love ourselves. To love yourself does not mean that we are always happy with who we are and what we do. We can always become better. Jesus died for us because he loves us, he loves us even with our shortcomings and failures. However, he gives us his help to become better persons. He wants us to love others, in the same way, despite their weaknesses. He knows that this will not be easy. It is not natural for us to love in this way. Had it been so, he would not have had to state that it is our responsibility to love others, and that such an indication was a commandment. How can I know that I am loving others in the way Jesus wishes me to love? In his letter to the Corinthians, St Paul gives us the best way to check this out, and to emend our shortcomings in this regard. Read 1 Corinthians 13, 4 – 8 and see how you can become a more loving person.In this episode, Jesus teaches us that we have several responsibilities, but the most important is our responsibility towards God's will. No-one and nothing should come before him. Two laws guide us. The law of man and that of God. God's law is always above the law of man.